Who We Are
Big picture thinking with a small firm touch.
Milestone Financial Advisors is a Registered Investment Advisor firm regulated by the Securities and Exchange Commission and the State of California under the provisions of the Corporate Securities Law of 1968. We provide Financial Planning and Investment Management services to individuals, families, and foundations in an informal, warm, and comfortable setting.
As a fee-only firm, we work exclusively on behalf of our clients and do not receive any other form of compensation. We are, in all circumstances, paid solely by the client and collect no fees which are contingent on the purchase or sale of a financial product. We do not receive commissions, rebates, awards, finder's fees or bonuses from others as a result of a client's implementation of our recommendations.
While we will refer out to carefully screened professionals where appropriate, there are never any third-party agendas at work. We do not sell insurance, annuities or limited partnerships, nor do we receive referral fees from accountants, realtors or attorneys.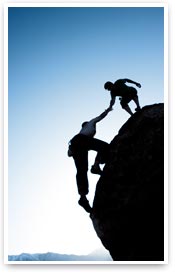 ---
"Financial peace isn't the acquisition of stuff. It's learning to live on less than you make, so you can give money back and have money to invest. You can't win until you do this."— Dave Ramsey